"Zukunftsstark" - ready for the future
A multi-faceted concept.
With our 70 IT service companies based in Germany, Austria and Switzerland plus our commercial IT companies in 14 European countries, we are always close-up to our customers. The combination of direct IT product sales with the wide range of services offered by our IT service companies makes Bechtle a strong and forward-looking IT partner - a partner for the future - Zukunftsstark - for medium-sized companies, large groups and the public sector.
As a service provider for sustainable IT architectures, we know how to put theory into practice. For us, a classic IT infrastructure is just as important as current trends like digitisation, the cloud, mobility, security and Infrastructure as a Service (IaaS).
More than 70,000 hardware and software products are available in our online shop, on customised e-procurement platforms or through distance selling.
In 47 skills centres across the group, specialists deal with a wide variety of IT topics requiring intensive consulting work.
Our Bechtle Clouds portal provides easy management of cloud services.
A complete IT lifecycle also means that we take care of the economic upgrading of your used IT equipment through professional IT remarketing.
Our Bechtle Financial Services AG is there if you are looking for smart financing services.
A decentralised, networked structure.
Bechtle combines the strength and solidity of a financially well-endowed international group with the personal and local support and flexibility of a regional service provider. What's essential for Bechtle's success is its operating principle as a decentralised, networked structure. All administrative areas and central services are concentrated in the holding company. The advantage: the various parts of the group working for customers such as IT service companies, managed services, skills centres, specialists with a wide range of skills and e-commerce can focus entirely on their core skills in their own facilities and on the customer's premises.
Vision 2030.
What drives companies forward and makes people enthusiastic?
For us, the answer is obvious: vision.
Vision radiates, attracts, encourages and inspires. A vision starts off as a small light in the distance and one day becomes a goal within reach. Like Bechtle's Vision 2030.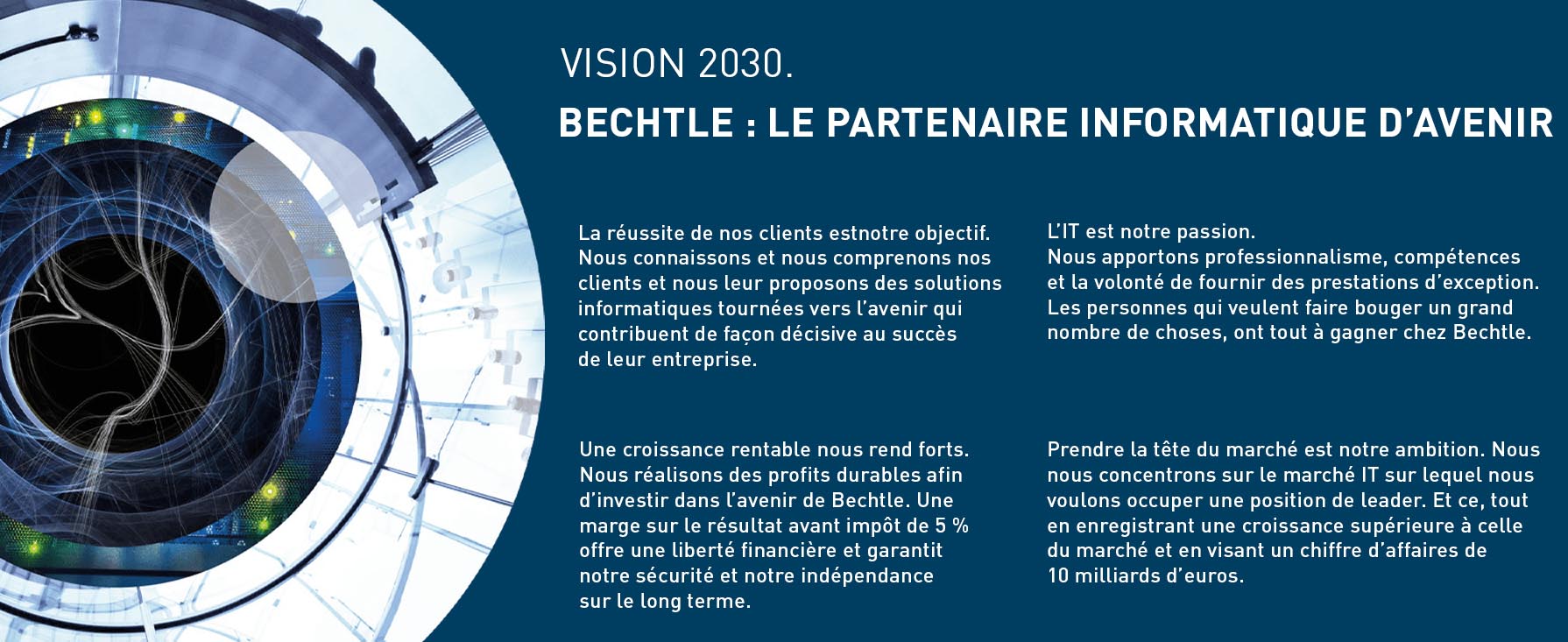 The two facets of Bechtle. A short and concise summary - our fact sheet :
Find out more about Bechtle: