Worldwide online remote support and collaboration
Companies around the world are using TeamViewer remote connectivity solutions to streamline their operations and provide better services to their employees, partners and customers.
Any questions ?
Telephone: 01 53 38 20 50
Solutions for a safe & connected workplace.
Securely access any device, anywhere, anytime.

Working at a distance, being supported at a distance
TeamViewer helps you keep productivity high. Allow your teams to connect from anywhere, anytime, on any device.

Website Monitoring
Monitor, analyse and improve your website uptime, page load speed and important transactions with TeamViewer Web Monitoring - our new integrated website monitoring solution.

Connect remotely to any device
Make any machine smart with instant remote connectivity and built-in remote support capabilities - manage, monitor and control your IoT devices from anywhere with TeamViewer IoT.
TeamViewer Internet of Things
TeamViewer IoT allows you to instantly connect, monitor and operate assets in manufacturing and production, securely, quickly and across multiple sites.
Benefits of TeamViewer IoT
Combine remote control and monitoring capabilities
Leverage remote endpoints for faster, more cost-effective, enterprise-wide operations
Receive alerts based on IoT data monitoring to respond quickly to incidents
Benefit from remote support to address device issues as they arise
Accelerate your IoT solution deployment with exceptional connectivity, without complex IoT VPNs
TeamViewer Engage
TeamViewer Engage™ is a next-generation digital customer engagement platform for online sales, digital customer service and video consultations, enabling businesses to enhance their customer experience for long-term brand loyalty.
Benefits of TeamViewer Engage
Co-navigation
Co-browsing simplifies communication between client and agent with advanced, hassle-free screen sharing technology. Use TeamViewer Engage to co-browse with clients on any device, in any browser - without downloading or installing.
Live Chat
Integrate live chat into your website to convert visitors into customers and provide instant support. Give your agents useful tools to increase their efficiency, such as automated chatbot flows and predefined answers to frequently asked questions.
Chatbots
Create automated chat dialogue flows based on pre-defined conditional rules to pre-qualify leads, answer common questions, and more. If issues are too complex for automated chatbot support, an agent will be alerted and can take over without interruption via live chat.
Video chat
Conduct customer consultations, sales calls, remote inspections, technical support, and more. Integrate video chat into your website, online customer portal or mobile application for one-click access to digital customer service.
Appointment Scheduling
Easily set up and manage your sales and consulting appointments with TeamViewer Engage. Synchronise appointments with your calendar application, send appointment invitations by e-mail and use the appointment book to allow customers to book their times in your calendar.
Electronic signature
Available with document co-browsing, this legally binding e-signature tool allows you to get contracts, proposals, forms or any other digital document legally signed electronically in seconds, from any device - without investing in separate software.
TeamViewer Frontline
TeamViewer Frontline is an enterprise augmented reality platform. It is designed to improve efficiency and streamline processes for frontline workers in non-desktop environments.
The TeamViewer Frontline platform includes Frontline Creator, Frontline Workplace and Frontline Command Center and can be deployed on-premises, in the Frontline Cloud or in your private cloud, depending on your IT infrastructure requirements.
Benefits of TeamViewer Frontline
Frontline Creator
Frontline Creator is an easy-to-use visual designer that allows you to create and modify custom augmented reality workflow applications with a simple drag and drop process. No coding, programming or computer development is required.
Frontline Workplace
TeamViewer Frontline Workplace works on mobile and wearable devices, including smart glasses, tablets and smart watches. Frontline Workplace supports manual tasks by displaying relevant information when workers need it, right in the field of view of their smart glasses.
Frontline Command Center
Frontline Command Center is a centralised, web-based management centre that allows you to administer Frontline's modular solutions and manage your staff by assigning tasks or providing remote assistance.
TeamViewer Assist AR
TeamViewer Assist AR is a complete and scalable AR solution that adapts to the business needs of all customers. It can be activated via the Tensor platform.
Maximise efficiency, reduce operating costs, increase revenue and improve workplace safety
Accelerate the digitisation of industrial workshops
Reinvent the way frontline workers work, supported by augmented reality

As one of the world's leading remote connectivity platforms, TeamViewer makes sure all users are connected, on all types of devices, anywhere and at any time. The company provides remote access, support and control, as well as collaboration capabilities for online terminals of all kinds and helps companies of all sizes to realise their full digital potential.
TeamViewer is activated on approximately 2 billion devices. Nearly 45 million devices are online at any one time. Founded in 2005 in Göppingen, Germany, the company employs nearly 800 people in offices across Europe, the USA and Asia-Pacific with sales support through our Reseller Partners.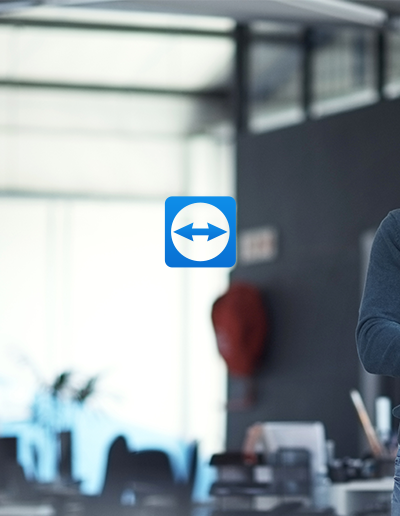 INFORMATION SHEET (FR)
TEAMVIEWER SECURITY (FR)