Modernise your infrastructure with VMware solutions
As a pioneer in virtualisation, VMware offers comprehensive solutions to help you with your digital transformation projects, whether you want to modernise your datacentre by virtualising your infrastructure, or deploy virtual desktops securely and efficiently.
At Bechtle Comsoft, our VMware experts will guide you through this process, taking into account the specific needs and constraints of your organisation.
Contact our specialist to discuss your needs and define the right solution for your organisation.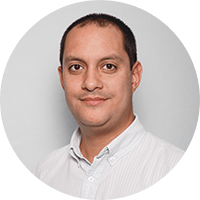 Emmanuel Rasamoely
VMware Consultant
Telephone : +33 4 97 21 58 67
Email : emmanuel.rasamoely@comsoft.fr
The 4 steps to a Software-Defined Data Center :
VMware solutions offer all the virtualisation building blocks that enable the construction of an infrastructure suitable for hybrid environments consisting of on-premises servers, private clouds and loads carried by public clouds.
But not all organisations are ready to deploy this entire virtualised ecosystem at once, as business processes are not sufficiently mature to integrate these changes. However, this should not be a barrier to IS modernisation. It is not essential to have a fully automated and virtualised infrastructure to benefit from the advantages of the SDDC. The implementation of certain components can already bring initial benefits. It is important to identify them beforehand and to consider their relevance in your context.

STEP 1 : SERVER VIRTUALISATION

STEP 2 : STOCKAGE VIRTUALISATION

STEP 3 : NETWORK VIRTUALISATION

STEP 4 : SOFTWARE-DEFINED DATA CENTER
Download our ebook to know more about each steps:

[WHITE PAPER] 3 reasons to deploy hyperconverged infrastructure
For organisations that want direct access to the software-defined datacenter, the deployment of VMware Cloud Foundation is the ideal solution.

Bringing together software-defined compute, storage, networking and security services in a single software platform, VMware Cloud Foundation delivers consistent and secure infrastructure and operations across private and public clouds.
In addition to the cost and efficiency benefits of modernizing your datacenter, VMware Cloud Foundation is the foundation for your digital transformation projects including
Optimal Flexibility
Deploy a common operating environment across the hybrid cloud with vShpere, the industry leading virtualisation platform.
Desktop virtualisation
Combined with Horizon, VMware Cloud Foundation enables you to simplify the planning and deployment of your virtual desktop architecture.
MORE EXCLUSIVE WHITE PAPERS AND DOCUMENTS:
DISCOVER OTHER VMWARE SOLUTIONS