The world's leading electronic signature solution.
Acrobat Sign is an enterprise cloud service that accelerates business processes with legal electronic signatures. It replaces traditional paper-based processes with fully automated digital document workflows, including forms, authorizations, and delivery of certified documents. It's web-based, smartphone-based, and in your favorite applications.
With Acrobat Sign, you can keep your workflows moving by easily adding electronic signatures. Your employees can initiate automated signature processes to one or more signatories (up to thousands) instantly and with a single click. And customers and constituents can sign documents with a simple gesture, no matter where they are.
Discuss your projects with our Adobe specialist.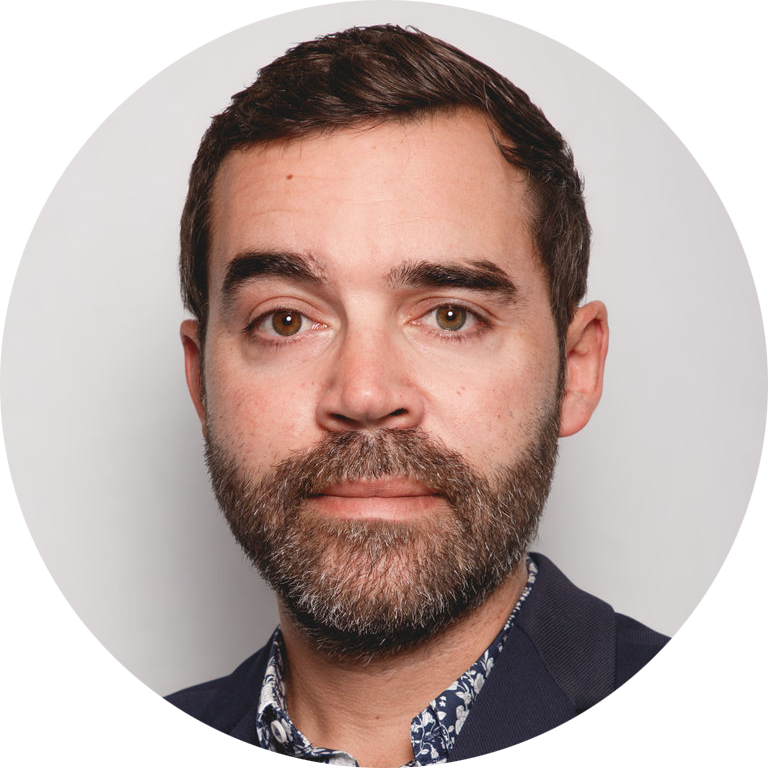 Thomas Ripoche
Adobe Sales Specialist
Email : thomas.ripoche@comsoft.fr
Phone : +33 1 53 38 20 65
With many years of experience as an Adobe Sales Specialist, Thomas brings his expertise and supports our Bechtle Comsoft customers in helping you get the most out of your projects.

Acrobat Sign Support Services
Do you want to train your teams to use Acrobat Sign? We offer several levels of training with a certified Acrobat Sign expert, whatever the complexity of your request:

Level 1: Introduction of the key concepts necessary for an optimised use of Acrobat Sign (for administrators and end users). 2h training (available)
Level 2: Optimisation / Discovery of use cases by business profile/department (available)
Level 3: Implementation & advice on M365 integration and other third party tools (coming soon)
Acrobat Sign helps your business grow in any industry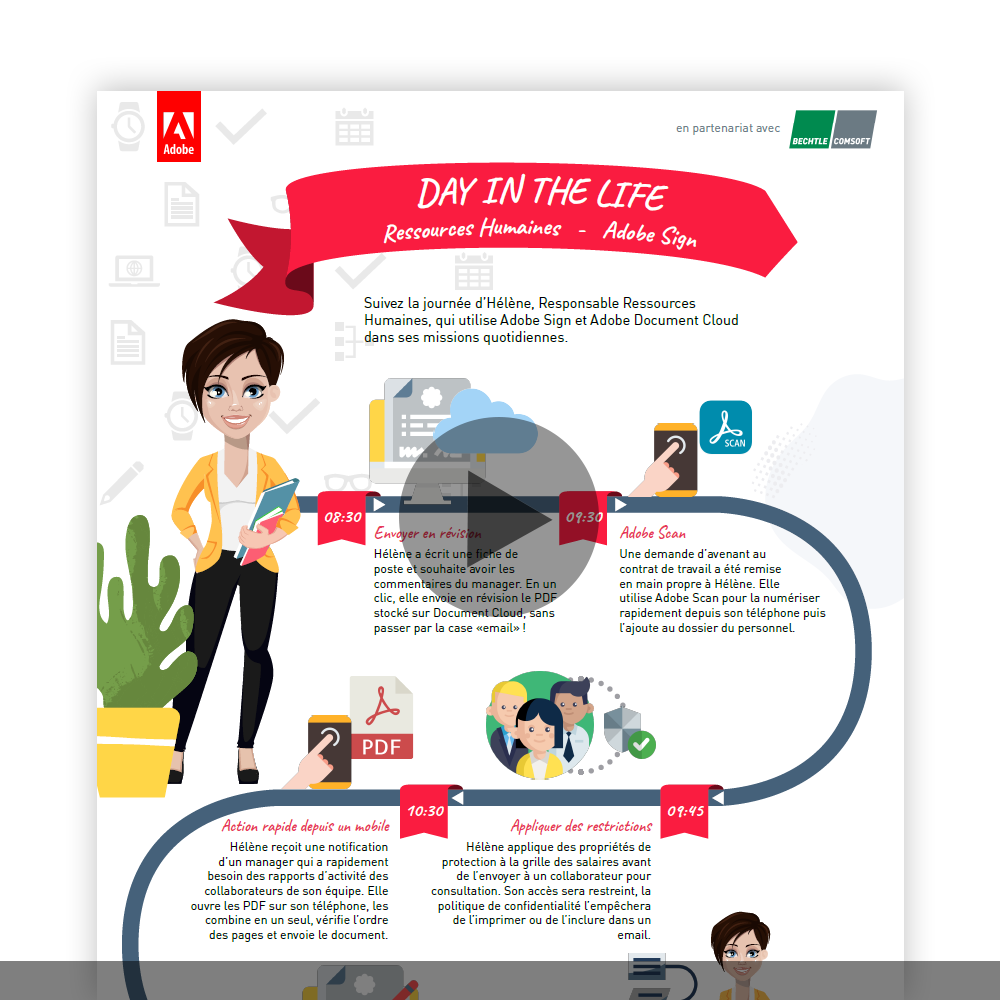 [INFOGRAPHY] In the skin of an HRM using Acrobat Sign. (FR)
[INFOGRAPHY] In the skin of a travelling sales using Acrobat Sign. (FR)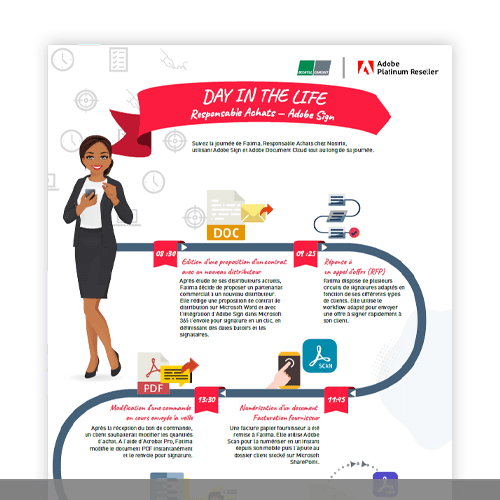 [INFOGRAPHY] In the skin of Purchasing manager using Acrobat Sign. (FR)

Why adopt Acrobat Sign?

1. Power of Adobe experiences.
You gain efficiency, ingenuity, and speed with experiences powered by Adobe Sensei (e.g., Adobe Scan).
Your customers, employees, and partners can sign online anytime, anywhere, from any device or browser, anywhere. Your documents come back 21 times faster!
Transform your business processes (sales, HR, legal...) with automated signature and validation workflows that allow you to easily create your designs yourself and create reusable templates without any programming.
Ebook : Boost your team's productivity by improving collaboration (FR)

2. An exceptional return on investment.
You have the ability with Acrobat Sign Enterprise turnkey integrations such as: Salesforce, SAP, Microsoft, Workday, ServiceNow, Apttus, Box, Dropbox, Google drive, etc; to accelerate Acrobat Sign adoption and optimise your application investments.
Your PDFs can be turned into online forms in a few clicks, easy to fill out and sign for your customers with a high degree of customisation to promote your brand.
With Acrobat Sign Enterprise, take advantage of predefined integrations, APIs, development environments, training, tutorials, and more at no additional cost.

3. Global scale, security and compliance.
Acrobat Sign includes certifications: ISO 27001, SOC 2 Type 2, PCI DSS, and 21 CFR Part 11 and meets major data privacy legislation such as RGPD, HIPAA, GLBA, eIDAS, FedRAMP, Tailored, and FERPA.

4. An essential partner.
All support services are included in your license. Adobe technical and product experts are available by phone, live chat, self-service portals, or Adobe online community forums.
From Admin Console, you can get 24/7/365 support on technical topics such as deployment and license management, as well as a system for creating and tracking support requests.
Adobe Exchange offers applications and services to complement your Adobe solutions.
Save $6.1M over 3 years with Adobe Acrobat and Acrobat Sign.
Discover the full economic impact of Acrobat Sign on your business in this Forrester study (August 2019) (FR)
The purpose of this study is to provide readers with a framework for evaluating the potential financial impact and ROI of an Acrobat DC investment for their organisation.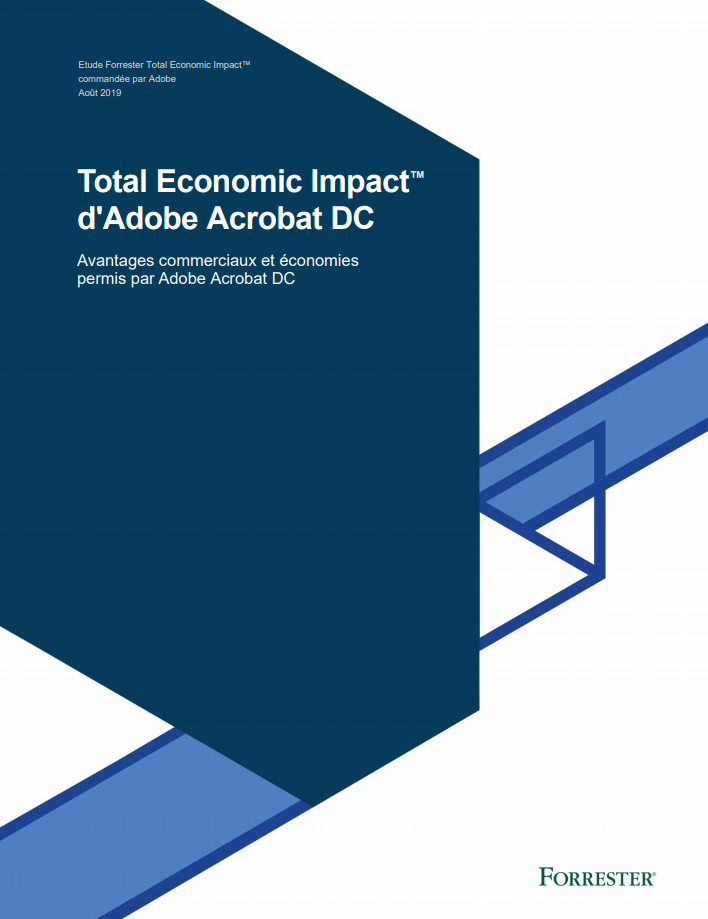 [STUDY] Document Automation in 2020: Focus on Western Europe (FR)
Western European companies are adapting to the 'new normal' by adopting collaboration and productivity technologies that allow them to continue to operate in a virtual work environment.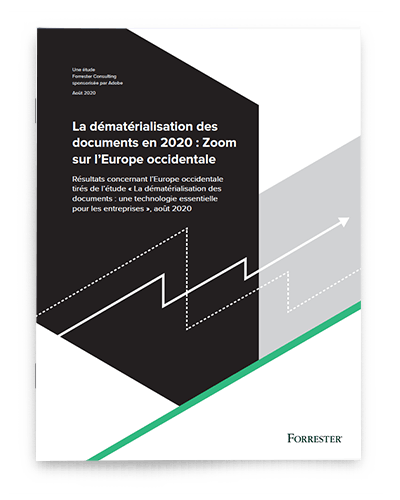 Discover all Adobe solutions